Self-reliant initiatives for Women Empowerment
About Us
Stri Shakti, a National and State level ISO 9000-2001 organization and a registered body, is a partner and promoter of various Government welfare schemes in several Indian states. We focus on women empowerment by playing an active role in motivating, training and employing women from weaker sections of the society to participate in various specialized activities aimed at enhancing their socio-economic status.
Our programmes are aimed at women belonging to the lower middle-class section of the society. We cultivate their potential and become part of Self Help Groups which provide low-cost nutritious food for masses under various Government Schemes.
Through various projects, Stri Shakti has addressed several social issues like gender inequality, poverty, illiteracy, malnutrition, and hunger in order to promote children education, women upliftment, financial awareness, and good health.
Stri Shakti is currently present in Delhi, Gujarat, Punjab, and Maharashtra. With a total strength of 10,049 ladies empowered in different Self-Help Groups. Stri Shakti has made a successful impact on the lives of more than 10,04,873 children in Delhi, Gujarat, Punjab, and Maharashtra through the Mid-Day Meal Scheme.
Achievements/Awards
The achievements of the Mid-Day Meal program in Delhi, Gujarat, Punjab, and Maharashtra have been recognised by one and all. Stri Shakti is now feeding around 3,50,000 children under the Delhi Municipal Corporation, 1,20,000 children in Ahmedabad, and 87,000 in Valsad District. We have also won 8 awards for our work on different projects.
Projects
Mid-Day Meal (MDM) –
By providing nutritious and hygienic cooked mid-day meals to all children studying in the Primary and Upper-Primary classes of Government and aided schools, Stri Shakti is working towards reducing social problems like malnutrition, classroom hunger and promoting education through school attendance and enrolment.
Integrated Child Development Services (ICDS)
Through a vast chain of ICSD centres, also referred as "Anganwadis" Stri Shakti is implementing this national programme in our nation's supreme assets and future resources, our children, by supplying Weaning Food and Cooked Food to children below the age of six, adolescent girls, pregnant women, and nursing mothers.
Police Headquarter Canteen
Our policemen serve the nation day and night which makes it important for them to have a wholesome and nutritious meal. The SHGs by Stri Shakti prepare quality meals keeping in mind the nutritional requirements and demanding nature of the jobs of our policemen.
Delhi Secretariat Canteen
Self Help groups of Stri Shakti, sanctioned by the Government of Delhi, are managing the Canteen to provide quality and hygienic food to all Government employees and visitors at the Delhi Secretariat.
Shramik Annapurna Yojna
Stri Shakti that provides mid-day meal to Anganwadi is now also offering meals at nominal rates to construction workers under the 'Shramik Annapurna Yojna' introduced by the Government of Gujarat. The workers are provided a fulfilling meal once a day for Rs. 10 only once they register themselves with ID proofs at the stalls.
Events
Stri Shakti has always been at the forefront and been a part of social events, ranging from hosting various inauguration ceremonies, get-togethers, and celebration of important days by various Government bodies.
Our Mission
Stri Shakti is focused on uplifting women belonging to the lower middle-class sections of the society and utilizing their potential in the kitchen to serve the masses with low-cost nutritious food. Through the implementation of national welfare schemes, we are not only committed towards bridging the gap in gender inequality but also working towards eradicating malnutrition, hunger, illiteracy, and poverty.
Photo
Gallery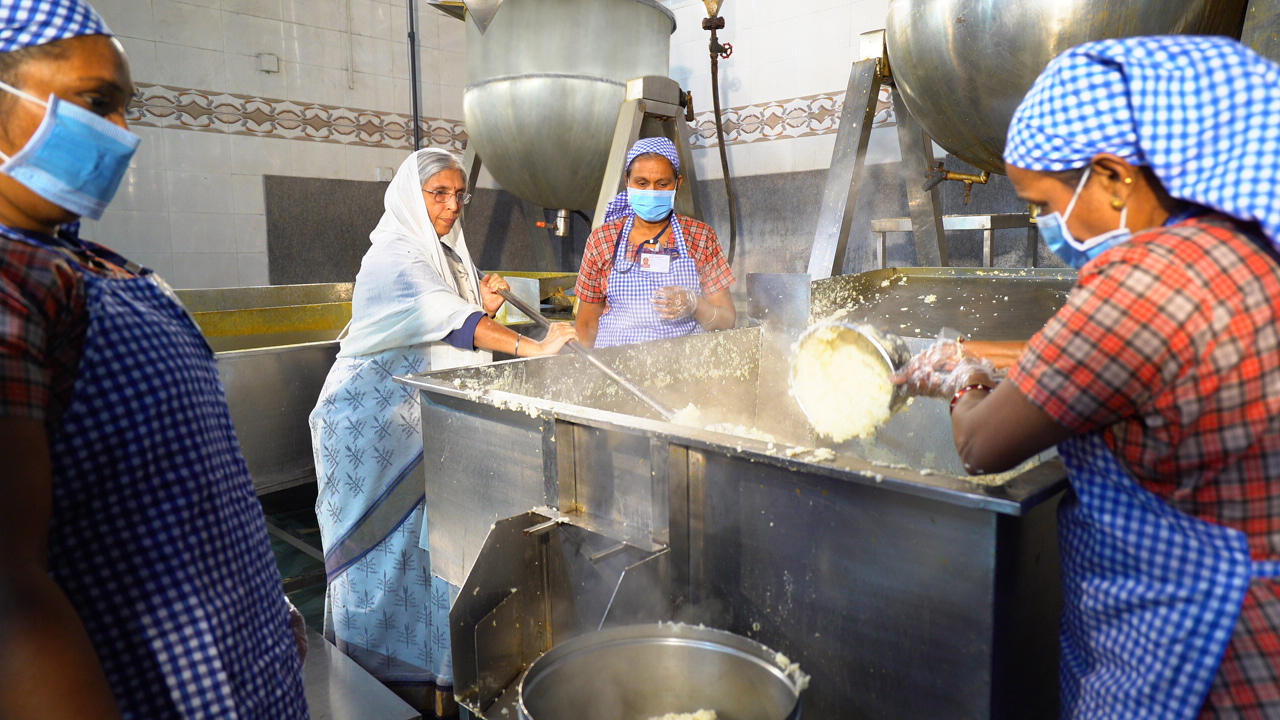 A Preview of our Projects and The Happiness Spread